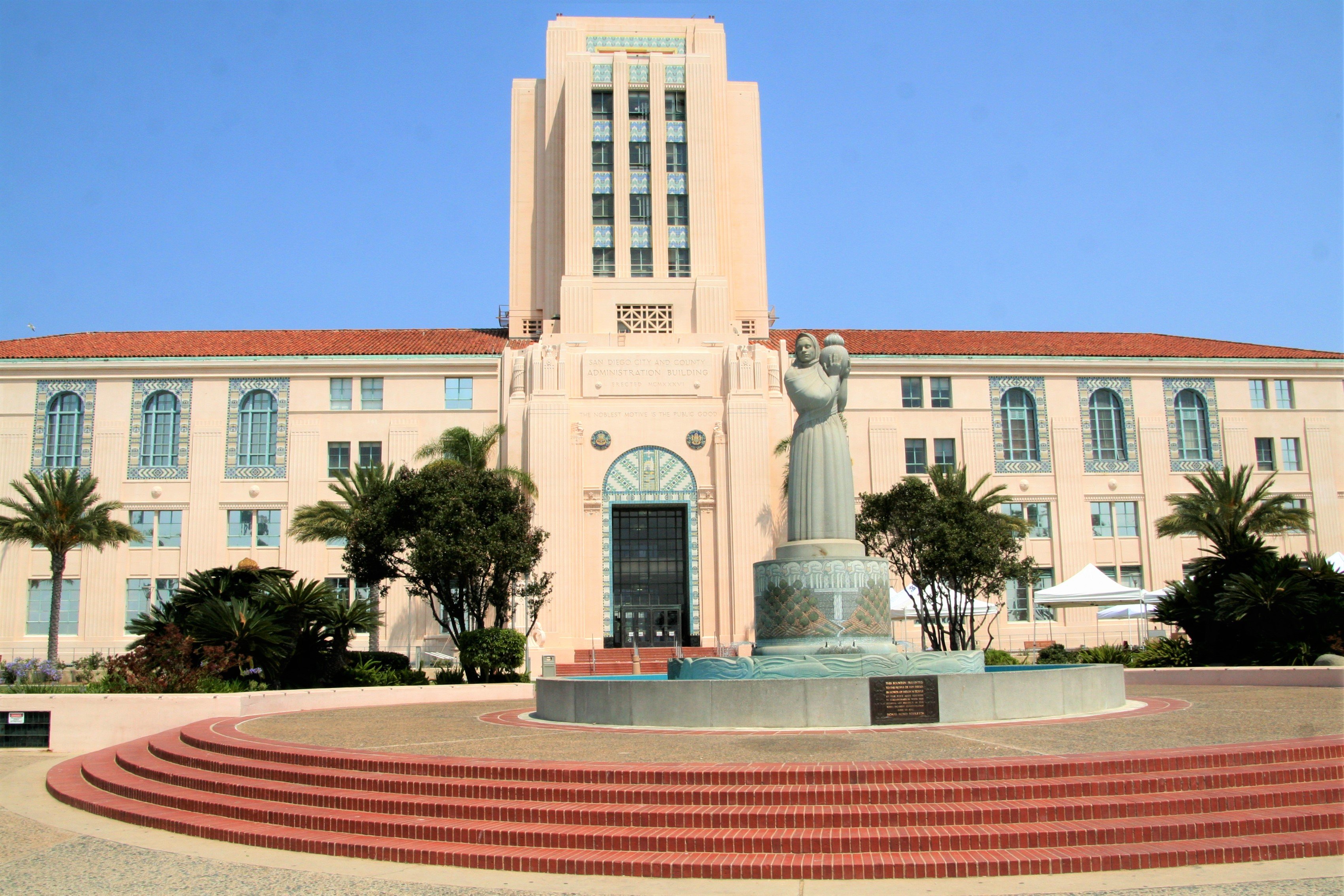 A "Back Together San Diego County" celebration of the lifting of COVID-19 restrictions in California was held Tuesday in front of the San Diego County Administration Center.
Nathan Fletcher, chairman of the Board of Supervisors, hosted the celebration beginning at 6:30 a.m. at the waterfront county building at 1600 Pacific Highway.
The celebration — which was open to the public — included live music, free breakfast snacks and refreshments, a press conference, and a ribbon-cutting ceremony to open the administration center to the public again.
"On Tuesday, San Diego County's economy will fully reopen, along with the rest of California," county officials said. "Chair Fletcher is hosting the morning celebration for the community because it's time for San Diego County to come back together so we can move forward with our recovery from COVID-19 and recapture the true spirit of our region."
Fletcher said Tuesday that COVID-19 "didn't hit everyone equally" in San Diego County, in terms of the communities hardest hit by cases and the economic fallout of the pandemic.
He said June 15 marked a day of celebration – a day to appreciate how far the region had come in fighting the virus and getting San Diegans vaccinated.
"It's all about appreciating and enjoying all the little parts of life that we've taken for granted," Fletcher said.
Fletcher said he thinks little things like gathering, meeting new people and just being around one another are going to feel more meaningful now.
"We're all going to have a deeper appreciation," he added.
San Diego County Supervisor Nathan Fletcher spoke with NBC 7 about the "dark moments" of the pandemic as the state gets ready to fully reopen after more than a year of restrictions.
Cox Communications sponsored the community celebration.
Fletcher was joined by San Diego County Vice Chair Nora Vargas at the event, plus partners from the San Diego Downtown Partnership, Asian Business Association of San Diego, San Diego Tourism Authority, Central San Diego Black Chamber of Commerce, San Diego Convention Center, San Diego Regional Chamber, San Diego Event Coalition and Dream Hahn in the celebration.
Local vendors scheduled to provide goods and services included: Nostalgia Coffee Roasters, Super Cocina, San Diego Balloons & More, Coffee 'N' Talk and Wonderbus Entertainment.
Vargas stepped up to the podium at Tuesday's press conference with a big smile on her face.
"We made it!" she said.
Vargas said county public health officials – with support from the state and Gov. Gavin Newsom – have kept pushing for vaccine equity in San Diego County in the communities hardest hit by the pandemic, including San Diego's South Bay.
With vaccine accessibility programs like the "promotoras" and eliminating vaccine appointments at sites in those communities, Vargas said vaccination numbers were able to go up.
She said over 80% of eligible San Diegans in the South Bay are now fully vaccinated with two doses of the COVID-19 vaccine.
"It worked," she said, referring to the equity mission.
"It's a very special day for our communities," Vargas added, in Spanish. "We did it. We got out of the worst of it."
San Diego Mayor Todd Gloria spoke with NBC 7 about the state's full reopening, as well as reflecting on the past year.