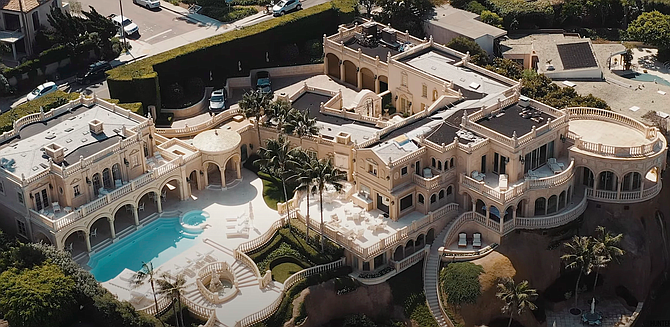 Deason mansion
Ex-San Diego mayor Kevin Faulconer, facing a daunting array of well-heeled Republican challengers to his bid to become governor in the face of a possible recall of Democratic incumbent Gavin Newsom, has hit the money circuit.
State disclosure records show that Faulconer's just-created gubernatorial exploratory campaign committee raised a total of $501,200 from January 12 to January 27 of this year, with many of the donors hailing from the super rich reaches of La Jolla and Rancho Santa Fe.
Kelly Burt, chairman and CEO of Price Self Storage, a real estate mogul who took part in the closed-door kingmakers meeting that picked Faulconer to run as the GOP insiders' choice for mayor after the scandal-caused fall of Democrat Bob Filner in 2013, gave his longtime ally $64,800 on January 21. Burt's wife Laurie did the same.
When he helped engineer Faulconer's rise to mayor, Burt was head of a political committee calling itself New Majority San Diego. "We don't address the social issues," he told the Voice of San Diego in October 2013.
Doug Barnhart, the Rancho Santa Fe contractor who has long been a major GOP donor, and his wife Nancy, kicked in a total of $64,800 to the ex-mayor's cause, as did Dallas, Texas computer billionaire Darwin Deason and latest wife Kimberly.
In November 2009, Deason and a prior spouse, Katerina Panos, bought the La Jolla oceanfront estate owned by developer Doug Manchester and first wife Betsy, then divorcing, for $18.15 million, substantially less than the $33 million asking price.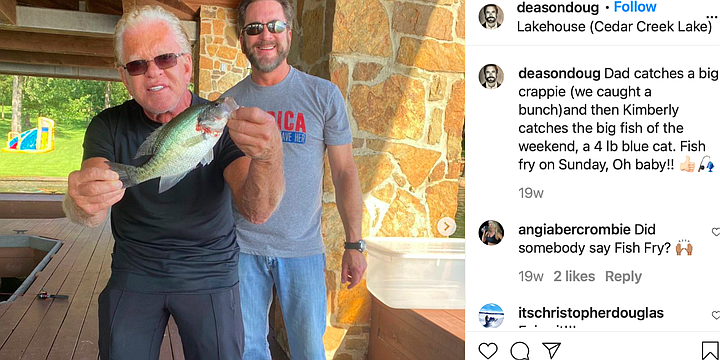 Darwin and Doug Deason
Three years later, Deason forked over $3284 to La Jolla lobbyist Matthew Peterson to make sure permits for an over-the-top Baroque makeover of the Spindrift Drive property made it through the Faulconer administration's development department.
As for prior money-giving, in 2015, Deason funded a super PAC, backing then-Texas governor Rick Perry's presidential aspirations to the tune of $5 million, but a year later switched his financial support to Donald Trump.
Deason's son Doug, also a staunch Trump backer, has been behind a bid to take control of San Diego-based One America News Network, which the ex-president has lately preferred over Fox News.
With his father, Doug Deason is on the Deason Foundation board, which gave $5000 to Faulconer's now-defunct One San Diego charity to fund the then-mayor's Thanksgiving turkey handouts in the city's more impoverished neighborhoods.
Phil Oates, chairman of the Buzz Oates Group, son of late developer Marvin "Buzz" Oates, and a partner in the Sacramento Kings basketball team with the sons of Qualcomm billionaire Irwin Jacobs, gave Faulconer's committee $50,000, filings show.
Los Angeles mega-landlord Gerald Marcil, who manages more than 3300 apartments, per a November 2017 account by Los Angeles Times columnist Steve Lopez, along with his wife, gave Faulconer's committee $68,400.
Marcil told Lopez that "lots of communities oppose new construction anywhere near their neighborhoods. That, along with rising construction costs, has pumped up rents, especially in job centers where there are more people making good money.
"Marcil said he thinks the state's large population of immigrants in the country illegally is a factor, too. He said they're good for his business because they increase the housing demand, but that drives rents higher for everyone."