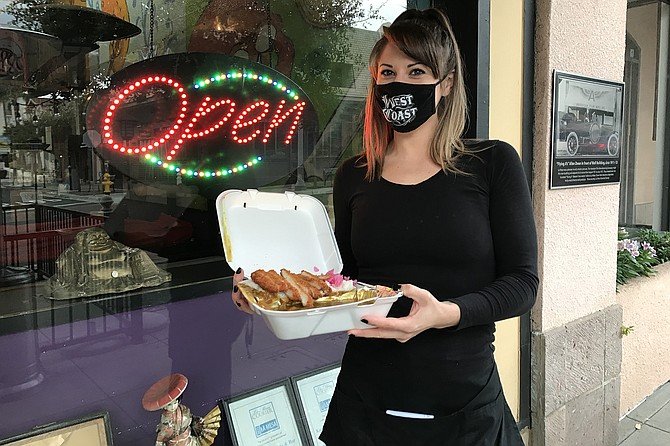 Amanda, with heavy curry/rice/chicken take-out.
"Konnichiwa!"
I love how all the crew in some Japanese eateries stop everything when customers arrive or leave and shout out "Konnichiwa!" Kind of "Hello!" "Good bye!" "Thank you!" "Good day!" I don't know about you, but I'm a sucker for it. A kind of human touch. Makes me feel plenty good, every time.
So, okay, this isn't happening on La Mesa Boulevard exactly. I am sitting on a park bench in the chill late afternoon air, sucking a beer through a straw, and holding a heavy, warm, box of Japanese curry.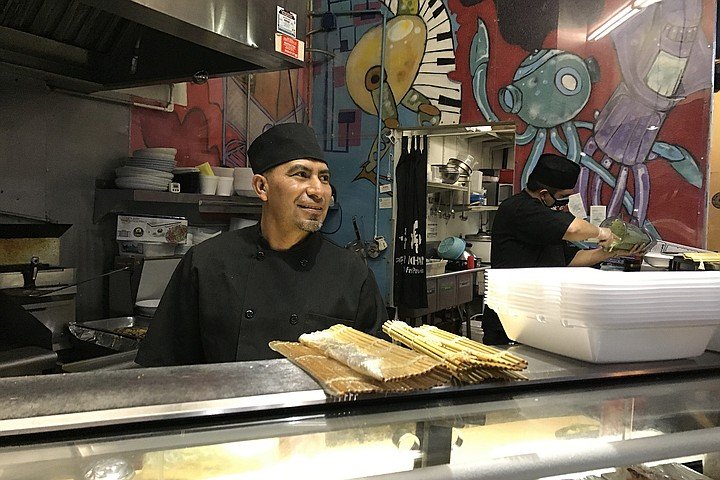 Chef Juan Cabrera: trained in Japan.
Uh, hold that thought! Japanese? Curry? Indian, yes, but what are the Japanese doing, selling this stuff as theirs?
We'll come back to that. First, let's back up: I was looking for someplace, anyplace that would feed me and give me a place to sit. I know. The laws, that's cool, gotta keep people socially distanced in the face of this virus. I understand.
Whatever, still gotta eat. Here in downtown La Mesa, the effect is like a neutron bomb. Everything's as it was, except no people.
I only stop outside this sushi place because it is showing signs of life. The guys are trying. "$5 pints of beer to go." "Sushi Specials!" "Tuna tempura appetizer, $5.95." And Cilley Roll (yellowtail amberjack with spicy crab and tuna on top), $10.95. But the arty patch on the whiteboard that catches my eye says "NEW! Try Our New Curry! Vegetable ($12), beef ($15), chicken ($13), shrimp ($15)."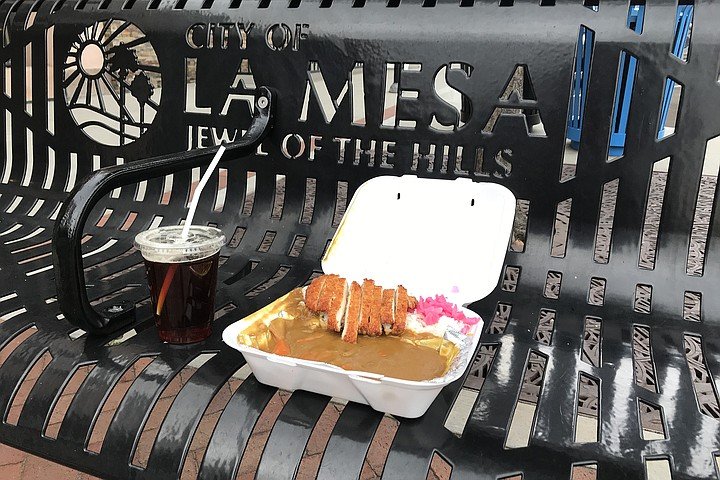 Finest (and only) seat in town! Straw helps with discreet beer.
Huh. Of course, they also have the usual list of sushi bar suspects, ranging from basic rolls (from $7), to hand rolls, to nigiri, to bento boxes ($14), to maki rolls, to sashimi mix ($20-30).
But no. I'm hooked on the idea of a nice warm curry. And specially since Juan Cabrera, the chef, says it's a Japanese curry?
"So," I ask Juan, "think I could get, say, a chicken curry and eat it on a public bench without being hassled? Like that one right next to your sidewalk patio?"
"Don't see why not," he says.
So I go for the $13 chicken curry. And hey, one of those $5 beers to go they're pushing. With a straw, natch. It doesn't have to be a Bud Light, either. I go for the one at the top, from that Mission Gorge company, Prodigy. Their Amber Ale. Delish.
And yeah, there is something kinda cool about sitting here near Konnichiwa's midnight blue outside lighting, sucking this nice malty beer through a straw, listening to the incredible silence. I imagine summer nights here, bulging with the cool La Mesa crowd sluicing up and down the boulevard, with music ringing in and out of the sidewalk patios. Sigh.
"Be very careful. This could spill."
It's Amanda. She's carrying this polystyrene box groaning with food. She lays it on the beautiful, wrought-iron, black street bench, the one that has "City of La Mesa. Jewel of the Hills" stenciled through it, along with a nice art nouveau silhouette of palms, sun and hills.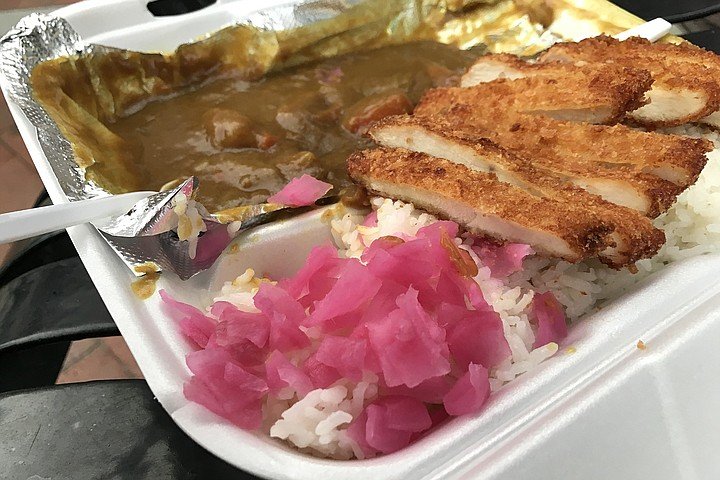 Pink ginger's tang counters the curry's sweetness.
I open the box. And man, I see what Amanda is saying. The front half is a lake of golden curry with potatobergs and carrrots. The back half is all rice, but with a complete panko'd chicken breast sliced across the top, and pickled pink bits of some root. And all so warm to the touch. It may be 13 bucks, but this is a deal.
I take up my black plastic spoon. Maybe it's just the picnic thing, or the quiet, or the cold, or the smells of cumin and turmeric, but I'm a happy camper. Mmm. Take another sniff. Coriander? Definitely ginger. Mild, but totally seductive.
I start with rice, of course, soak in some curry, add a chunk of potato, carrot, and a little bit of the tangy root taste. Then throw in a chunk of breadcrumb chicken. Man, there is a lot of stuff here. Goes so nicely with the ale that I'm tempted to have another. Uh, no. Gonna work tonight. But I swear, the sweet-savory curry thing just keeps you eating, and eating, and eating.
Only thing gets me up and stops me gut-stuffing myself is that I'm getting more and more curious about the Japanese aspect.
"Is there really a difference between this and Indian curry?" I ask, because I can't taste one.
"Flavor," says Juan. "The Japanese use soup flavors, the bones, and a little garlic, onions, carrots for sweetness. We make it every three days. The Japanese don't like it to get greasy, or old."
He ought to know. He says his boss recently sent him over to Japan to refine his knowledge. And they're seeing results: for the past three years in a row, La Mesa Courier's readers have voted Konnichiwa "Gold Winner" for Japanese cuisine.
But the Japanese thing? I still ain't sure about the difference from the Indian. "For a start, Japanese curry flavors are more modest, understated than Indian curries," says Juan. "Maybe more subtle. Thicker, sweeter, less spicy."
It turns out curry spread with the British and Japanese empires. The British Royal Navy and the Imperial Japanese Navy were both responsible for bringing curry across from India during Japan's Meiji era, in the late 1800s. It was good for an illness named beriberi and other tropical diseases, and from the start, the Japanese Navy, and army, and school kids just, well, ate it up. Now, it's eaten more often in Japan than tempura or sushi.
Me, I could live off this stuff too. Specially in this cold weather. It is so warm and filling. Also, it is supposed to be quite good for you.
OK. It's not the cheapest eat in the world, but Juan has an answer for that. "If you don't have a lot in your pocket, we always do our $4.95 special. That's rice, veggies, and chicken. You won't go away hungry."
The Place: Konnichiwa Sushi Bar, 8350 La Mesa Boulevard, La Mesa, 619-466-6446
Prices: Tuna tempura appetizer, $5.95; Cilley Roll (yellowtail amberjack with spicy crab and tuna on top), $10.95; salmon roll, $7; Philly roll, $7.50; eel hand roll, $7; nigiri Japanese omelet, $5; four baked mussels, $9; mixed tempura, $11.50; soft-shelled crab (2) $12; tonkatsu ramen noodles, $14; Japanese curry, $12, (vegetable); $15 (beef); $13 (chicken), $15 (shrimp); sashimi mix, $20-30
Buses: 1, 852
Nearest Bus Stops: Allison and Date (1, 852); Alison and Pine (852)
Trolleys: Orange Line
Nearest Trolley Stop: La Mesa