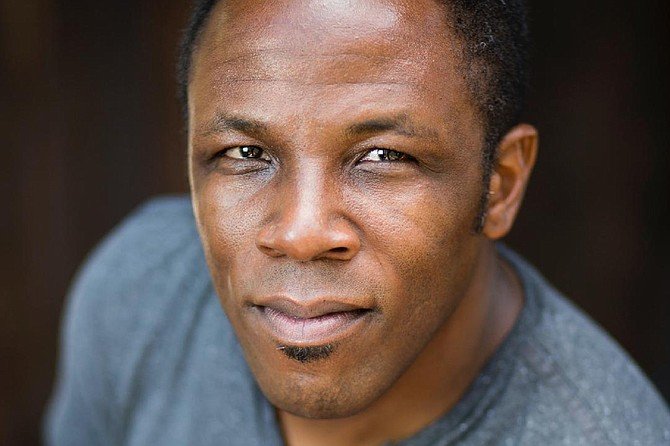 Photograph by David Rumley
"It's definitely a blessing to land something like that," says local singer Leonard Patton of his national commercial.
Back in December, local singer Leonard Patton's voice was heard on a national commercial for a Pizza Hut jingle (doing a take on "The 12 Days of Christmas.") It was recorded at Singing Serpent studios in Kensington.
How did that opportunity come about?
"Well, I get called two or three times a year to do local stuff through them — usually it's a car commercial or something. This is the second national opportunity I've had. Back in 2014, I did a Coca-Cola/NASCAR spot which was really sweet, because it ran [with minor changes] for a few years."
"This time, I got the call like the week before Thanksgiving. This is typical, it's usually a text inquiring about my availability the next day. In this commercial, there's really no on-screen actor, you just see a pair of hands picking up a slice of pizza. Everything you hear is my singing or doing the voiceover. This was kind of an audition, because they were also considering using another voice. So I went in and gave them what they wanted. The next day, I get another text asking if I can come back in to try some different things. I was told the ad company liked my voice, and was going to go with me. At this point, they were just changing lyrics and trying to come up with the final product."
How long did this go on?
"So over the course of eight days, I went back to the studio like eight times, tweaking the lyrics and even doing Zoom interviews with the talent agency to really nail down what they wanted," Patton explains. "At this point, I'm pretty confident, but it's never a done deal until you sign the paperwork. They can always change their mind at the last minute and go in a different direction, but this one landed. I've had a bunch of friends calling me saying they've seen the spot. It [aired] on ESPN, Comedy Central, BET all over the place, basically."
So what does a job like this mean financially?
"If the company hadn't gone for it, I would have just been paid an hourly rate for my time. There's nothing wrong with that, it pays well and the work is pretty easy. But once it became contracted work, I get paid through the Screen Actors Guild at their hourly rate, plus a session fee. And what's really great, is I get a residual payment every time the commercial airs."
I would imagine that comes in handy during these bleak pandemic times?
"It's definitely a blessing to land something like that. If you get just a few jobs like that over the course of a year, it can really help out. I've never really sought out this kind of gig. The traditional route involves finding an agent and have him pitch you for jobs. The life I live is usually so busy that I don't pursue that. But maybe this is a situation where life is kind of pointing me in that direction."
Did you ever envision this in your future?
"Not really. But it looks good on the resume. I mean I went to school all those years at Berklee [in Boston] and SDSU to understand and perform complex music. This you just go in and give them what they want, and it's relatively quick. It's not like learning a Peter Sprague chart."
What can you say about the studio?
"Singing Serpent is great. They're really considered a studio production company that's geared toward commercial endeavors. I've been working with them for at least ten years. They've used a lot of local musicians along the way."